Megaxus meluncurkan Warung ASN: Ajib, Sedap, Nagih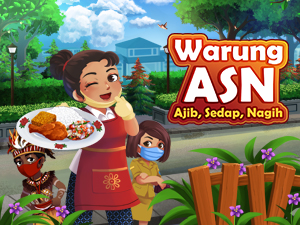 In order to support the government's efforts to grow a sense of love for Indonesian culture and Pancasila values ​​in the people, Megaxus developed and launched the game "Warung ASN: Ajib, Sedap, Nagih".
This is a restaurant time management simulation game, where players must quickly prepare the food ordered and immediately serve it to the customers. Don't let them go away because of waiting too long.
Every lunch hour, this Warung is always crowded with customers, from employees to ladies and gentlemen from various regions in Indonesia.
Play this fun game:
1. How good is your memory: memorize customer orders, then serve food according to the order
2. Relaxing but challenging game
3. Need more challenge? Try Extreme Mode and prove you're the best
4. Compete for your highest score on the Leaderboard
5. Artwork that reflects the cultural diversity of the Indonesian people.
Besides being fun to play, this game also trains you about leadership and management as well as the development of socio-cultural competencies such as Pancasila values ​​and diversity.
Let's play this exciting game while honing and developing our potential.